Learn to meditate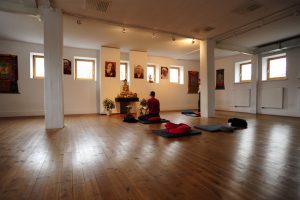 There are regular introductions and guided meditations every week, which are suitable for anyone who wants to learn to meditate, beginners or those with previous experience. The meditation which is practiced is called the 16th Karmapa Meditation. The methods employed in this meditation have been used in Buddhism since the time of the Buddha 2,500 year ago. Focused on fully developing the human potential, the meditation brings about lasting results for those who not only want to learn about their minds but have a direct experience of it.
Every Sunday, we start at 6.00pm with a short explanation about the meditation and Buddhism more generally. The meditation itself follows straight away and takes around 20-30 minutes. If you are new to Buddhism or meditation, it is an ideal place to start. There is no need to bring or wear anything special, and there is no charge for coming along.
Address

Higashicho 3-8-16, Koganei-shi, Tokyo




Est Merveille 401




Apartment 401

map

Directions
Go out the South Exit (Higashi Koganei Stn (Chuo line). Turn left and walk straight along Fujimi Dori for about 5 minutes. Est Merveille Mansion is on the right side. Enter the building and call us on the Intercom RM 401
If you have difficulty finding us please call: 070-4207-7666
If you are planning to attend please let us know and RSVP on the meetup site once the events have been posted.
http://www.meetup.com/Tibetan-Buddhist-Meditation-In-Tokyo-Japan